Cedric Michael Cox | 20 Year Retrospective Exhibition with Selected New Works
Past Exhibition
Starts September 11, 2020 5:00 PM EDT
Ends November 1, 2020 3:00 PM EST
Caza Sikes
Overview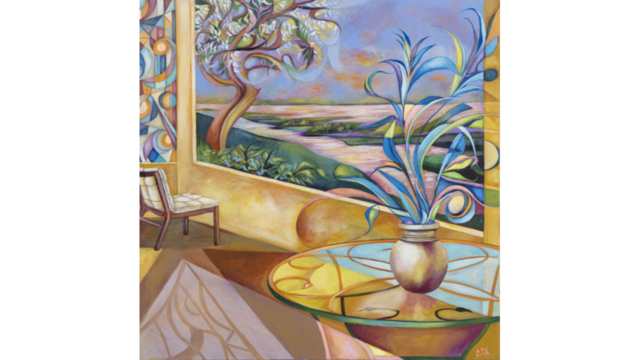 EXHIBIT SCHEDULE:
Friday, September 11 from 5 p.m. to 9 p.m.
Saturday, September 12 from 11 a.m. to 4 p.m.

Exhibit will remain open through October 24 during regular Caza Sikes business hours.
Cincinnati Chamber Orchestra Charity Auction
Bid on this one-of-a-kind painting from Cincinnati artist Cedric Michael Cox, with all proceeds benefitting the Cincinnati Chamber Orchestra's mission of presenting transformational and entertaining concert experiences. As part of the CCO's 2020 eFestival, Cedric worked on this painting LIVE while CCO musicians – trumpeter Wesley Woolard and principal oboe Christopher Philpotts – performed a variety of musical pieces that helped to exemplify the unique relationship between color and music.
EXHIBIT INFO:
Cedric Michael Cox is best known for his paintings and drawings which fall between surrealism and representational abstraction. As a student at the University of Cincinnati's College of Design, Architecture, Art, and Planning, Cox was awarded a fellowship to study at the Glasgow School of Art in Scotland. After receiving his BFA in Painting in 1999, he began to exhibit locally and regionally.
Cox's paintings catapults color into rhythmic action with abstract and recognizable images that create compositions inspired by themes in music and the natural world. His work remains true to sharing Cox's innermost self and radiates passion from the canvas. Working under several influences which include architecture and art history, Cox's work ranges from the geometric, to the curvilinear, to floral-like forms, all dancing within surrealistic shapes.
In addition to his work being in corporate collections, Cox executed several large-scale public murals and murals in various Public and Private Schools in the Cincinnati region. Cox's past exhibitions include, The Contemporary Arts Center of Cincinnati, The Weston Art Gallery, The Columbus Art Museum, Dayton Art institute, Five Myles Gallery in Brooklyn, Museum of Science and Industry and Gallery Guichard in Chicago, and The Taft Museum of Art. In 2019 Cox's work was on exhibit at 21c Museum Hotel in Cincinnati, and this year he had a solo exhibition at James Ratliff Gallery in Sedona, Arizona. He recently completed a series 64 paintings for Cincinnati Children's Hospital. Throughout his career, Cedric Michael Cox's, work has been featured in books, magazines, and television.