From Saigon to Cincinnati: The Works of Hiep Van Nguyen
Past Exhibition
Starts May 14, 2021 5:00 PM EDT
Ends May 30, 2021 3:00 PM EDT
Caza Sikes
Overview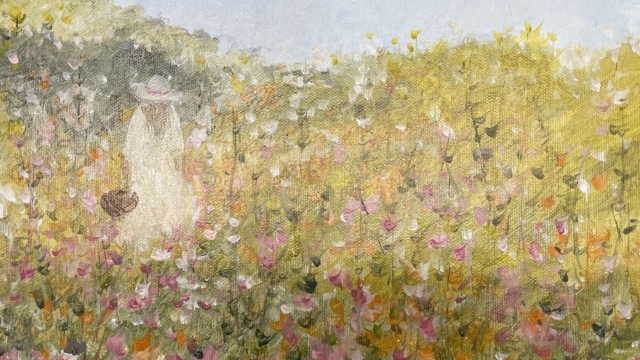 See over 50 works from Vietnamese American Cincinnati-based artist Hiep van Nguyen, including watercolor and acrylic examples.
About the exhibit:
Hiep Nguyen (Vietnamese/American, B. 1966) is a Vietnamese-born painter, who has resided in Cincinnati since the emigration of his family following the fall of Southern Vietnam in (1975).

Originally, the Nguyen family, with Hiep the oldest of 4 children, arrived in Coushatta, Louisiana, by way of the Philippines, Guam, Wake island and Fort Chaffee Arkansas. Upon discovering a relative in Cincinnati, they left Louisiana and moved there. The family, now numbering eleven) settled in the Queen City permanently.

Hiep was enamored with the liberal arts since childhood, learning English through obsessive film watching, culture, titans of early 20th century literature, and especially the arts. While his parents worked long hours, Hiep was instrumental in raising his eight younger siblings, while working himself.

His artistic passions developed as a young child, but materialized in high school in the forms of art materials and classes. He exhibited his work there. He collected literature and devoured American history, and was heavily influenced by the European impressionists. One can find similarities in a long line of famed Vietnamese-born impressionists, such as Le Pho (1917-2001) and Vu Cao Dam (1908-2000), whose vibrant and loose renderings seem to express a longing for a heightened aesthetic pursuit and a shunning of the mundane.

Hiep's artistic pursuits have been a lifelong endeavor. He has not exhibited his work until the present time. Caza Sikes is honored and thrilled to shine a light on his oeuvre, even though he does not spotlight for himself.


ARTIST STATEMENT:
I discovered my love for art when I was in the 6th grade or so. I spent a lot of time alone just drawing things to pass the time. My family didn't have much money back then and I didn't have the nice white drawing paper so I drew on brown cardboards cut from boxes and whatever else I could scrounge up just to draw a picture or two.

The person that influenced me most to paint, to expand my horizon was my art teacher at Roger Bacon High School, Mr. Edward Dauterich. He saw something in me in my freshman year, a twinkle of artistic talent, a hint of creativity or whatever it was that he saw, it lit a spark in me and I've painted ever since. He lectured, guided and shaped me to become a painter, to love and to be creative artistically contributing a little of my own beauty, however humble and ordinary it may be to share with the world. To Edward Dauterich, I will always be grateful and be indebted for his belief in a young boy who had a passion for being creative but was not able to live it out until he unlocked the doors to the beauty that is art.

This past year, when our world was scourged with a pandemic, when all we saw on television was death and destruction, in my isolation and quarantine, I chose to paint, to create beauty in a not so beautiful world and I painted some of the most beautiful paintings I've ever done in my life. I share my creations with friends and family posting my work on social media in hope that it would bring a smile or a feeling of happiness to those who see my paintings. I wanted my artwork to lift up their spirits as it does mine and in the end, it's all that important to me.