Interpretations of Nature: Abstract Paintings by Heidi Ann Harner
Past Exhibition
Starts May 4, 2020 10:34 AM EDT
Ends June 8, 2020 10:34 AM EDT
Caza Sikes
Overview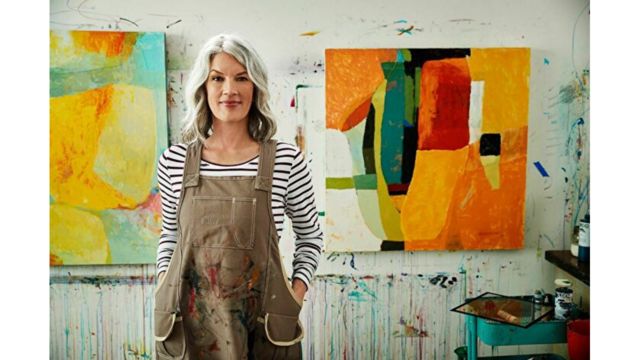 Welcome to our second virtual exhibition, featuring the abstract work of Indiana artist, Heidi Ann Harner.
From the artist:
Even though it's not quite the same as experiencing art in person, a virtual art show is such a great way for anyone from anywhere to see a special exhibit. Calming or vibrant, color is the star of this show. My paintings are meant to remind you of something in nature that you love, like a butterfly landing on a flower, sunshine illuminating your favorite outdoor space, or the scent of water on stone after rain. My work is all about the essence of nature. It's a creative interpretation, not a copy. My obsession for abstract art drives the shapes, forms, and composition of each piece. I invite you to ponder with me. Seventeen paintings of various sizes will be included in this show. With the gallery link, you will be able to "go into the gallery" and "walk up" to each painting in the room. If you want to own one, you can contact Evan at Caza Sikes for payment and shipping options.
Heidi Harner was born in Enid, Oklahoma. Her Air Force family moved every few years until she entered college, and now she makes her home in Indiana with her husband and their pets. She has a Bachelor of Arts in Visual Communications Design from Purdue University, 1993.
Her desire for painting increased during the cubicle years, and in 2004 she began her full-time career in art. Exhibitions, collections, and installations include The Park Avenue Synagogue, New York, NY. 2017 - 2022; the University of Kentucky Medical Center, Lexington, KY; Ivy Tech State College, Lafayette, IN; Lafayette Community Bank, Lafayette, IN; Frankfort Community Public Library, Frankfort, IN. Photo © Tom Rafalovich 2019