Nelson Mandela: A Photographer's Journey with the Father of South Africa, Featuring Pulitzer Prize Winning Photojournalist, David Turnley
Past Exhibition
Starts June 20, 2020 11:00 AM EDT
Ends July 20, 2020 3:41 PM EDT
Caza Sikes
Overview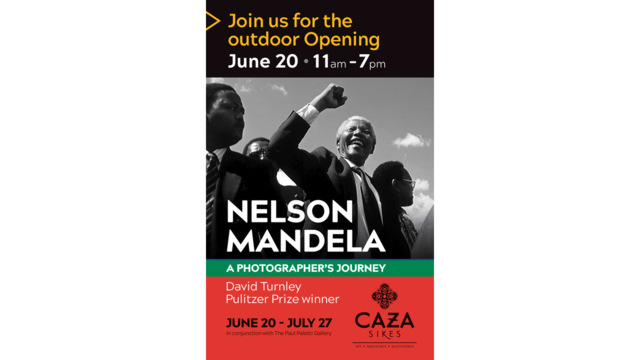 The exhibition will open on Saturday, June 20th from 11 AM - 7 PM. This will be an outdoors/indoor socially-distancing-friendly opening!
Featuring a partnered exhibition with Paul Paletti Gallery, Louisville, KY. Exhibiting photographs of Nelson Mandela and his family throughout the decades by Pulizter Prize winning photographer, David Turnley.
Biography
David Turnley
Winner of the Pulitzer Prize, two World Press Photos of the Year, and the Robert Capa Award for Courage, David Turnley has documented the human condition in more than 75 countries, and is considered to be one of the best Documentary Photographers working today.

David has extensive experience navigating and leading documentary photographers and journalists in the most perilous war zones of our time amidst live battle and combat. Combining his strategic communication and negotiating skills he has advanced and gained access to the most restricted regions, bringing to light uncovered and unknown war crimes, cultures, and a breadth of human experience and tragedy that screams to have a voice and be known to the world. David's work has always been rooted in a value system that emphasizes a world view of inclusion and "We The People".

David has covered the world events of the last 40 years including the struggle in South Africa and the election of Nelson Mandela as that country's first democratically elected President. David has been a dear friend of the Mandela family and is honored to have photographed President Mandela over the course of 23 years following Mandela's release from prison.

Turnley has documented and worked in Iraq and Afghanistan, and is known for what has been called, The Photograph of the War - during Desert Storm in 1991. He has covered the end of the Cold War and revolutions in Eastern Europe, Tiananmen Square Student Uprisings and Massacre in China, famine in Rwanda and Somalia, the disintegration of the Soviet Union, and he was almost killed in a full-scale shelling attack during the war in Chechnya. After returning to the United States to pursue a fellowship studying Filmmaking at Harvard, David moved to New York City, where he found himself once again in a war zone as he was one of the first photographers to arrive beneath the just-attacked World Trade Center towers and spent the day with the first firemen, photographing and trying to find anyone to save in the rubble. About the lives of David Turnley and his twin brother Peter, both acclaimed photojournalists, 60 Minutes made an episode titled "Double Exposure: Peter and David Turnley".

Regarded for his entrepreneurial and leadership abilities, he is an award-winning Director and Producer of both Documentary Films and TV Commercials. He has Directed and Produced three feature-length Documentaries: The Dalai Lama: At Home and in Exile, for CNN, La Tropical, called by Albert Maysles "the most sensual film ever shot in Cuba"; and his epic story of Shenandoah, located in the tough coal region of Pennsylvania. Shenandoah, which is available to view on Netflix, was named by The NewFilmmakers Los Angeles as "Best Documentary Film" and David was named "Best Director" for the year 2013.

David has Directed TV Commercials for NIKE Brand Jordan, State Farm, and Ameriprise, to mention a few. David has collaborated with and documented Kid Rock, Jerry Seinfeld, David Beckham, President Obama, President Clinton, Laird Hamilton, and most recently has the honor to document The Michigan Football Team and Coach Jim Harbaugh and The Making of Champions.
Turnley has always been extraordinarily proud that, even for less than a month, he tried out as a Walk-On as wide receiver on The University of Michigan Football Team under Bo Schembechler. Coming from an athletic family, David was raised in Indiana and spent his childhood and early adult years playing every sport under the sun. It was the same tenacity, passion, and stamina that David acquired from an early life in sports that has been at the core of his success as a Documentary Photographer and Director. In 1973 one of The University of Michigan football coaches stopped a practice after seeing David make a tackle, and then exclaimed to the team, "If everyone hits like this young man just hit, we'll have a hell of a team".

David is a successful Published Author of eight photographic books, including Mandela: In Times of Struggle and Triumph, from his extensive time over the last twenty five years photographing the evolution of South Africa, and Nelson Mandela and his family. David is the co-author, with Coach Jim Harbaugh, of Enthusiasm Unknown to Mankind, a book documenting the Michigan Football Team with a 16 page Treatise by Coach Jim Harbuagh.

David is regularly booked throughout the world for his inspirational speaking skills, including Africa, India, Europe and across the United States. He was invited to participate in one of the first TED Talks in California in 1990. He was also invited as one of the Penny Stamps Distinguished Speakers Series at The University of Michigan before a full house at The Michigan Theater, and honored to receive a standing ovation.

David is a Tenured Associate Professor at his alma mater, the University of Michigan School of Art and Design, and Residential College. He studied filmmaking at Harvard on a Nieman Fellowship and has Honorary Doctorates from the New School of Social Research in New York, and from the University of St. Francis in Indiana. He received a B.A. in French Literature from The University of Michigan and has also studied at the Sorbonne in Paris. He is fluent in French and Spanish.

The proud father of two children, David lives with his wife Rachel and family, in Ann Arbor, Michigan.