The Latta Collection of Rookwood Pottery
Past Exhibition
Starts December 2, 2022 5:00 PM EST
Ends January 26, 2023 3:00 PM EST
Caza Sikes
Overview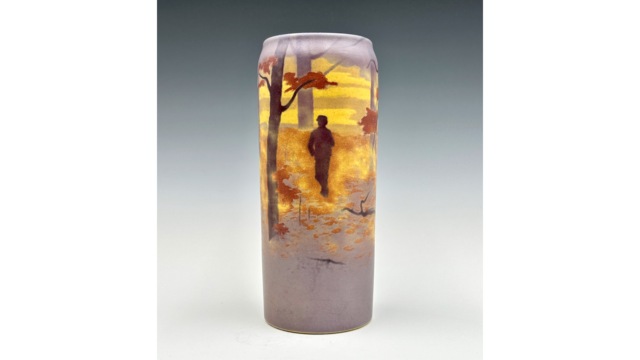 Caza Sikes is excited to present selections from the Latta Collection of Rookwood Pottery, one of the most expansive and important privately held collections of Rookwood in the world.
OPENING EVENT:
FRIDAY, DECEMBER 2 at Caza Sikes
5PM - 9PM
Food and refreshments provided
Acquired over the span of decades by a husband and wife team -- both passionate collectors -- the collection comes to public display for the first time ever. The show also represents the first major Rookwood pottery exhibit (outside of the museum) to be held in Cincinnati in decades.
The exhibit will feature:
*More than 20 signature pieces, many of them some of the finest known examples, spanning from the earliest years of Rookwood Pottery in the 1880's through the 1950's.
*Premier examples of each glaze line ever made famous by Rookwood, decorated by Rookwood's most notable artists. Included are examples of standards glaze, iris, black iris, painted mat, french red, aerial blue, sea green, vellum and more. Artists represented include Grace Young, Sarah Sax, E.T. Hurley, Harriet Wilcox, Albert Valentien, just to name a few.
*A selection of Rookwood pieces from the collection made available for purchase via the website or at the exhibit. Many fine examples for enthusiasts to begin or add to their collection. (Catalog of for-sale pieces is forthcoming)
"ON COLLECTING ROOKWOOD" LECTURE
Meet the collectors at this free informational Q&A session prior to the Opening, from 4PM to 4:45PM on December 2. Mark and Marie Latta will offer anecdotes from their decades of Rookwood pursuit and answer your burning questions about all things art pottery.
*Limited spots are available for the lecture - RSVP HERE
We look forward to you joining us for the Opening, and throughout the month of December for this show!