The Nuevo Nueve: Cincinnati's Emerging Artists
Past Exhibition
Starts June 17, 2022 5:00 PM EDT
Ends July 30, 2022 3:00 PM EDT
Caza Sikes
Overview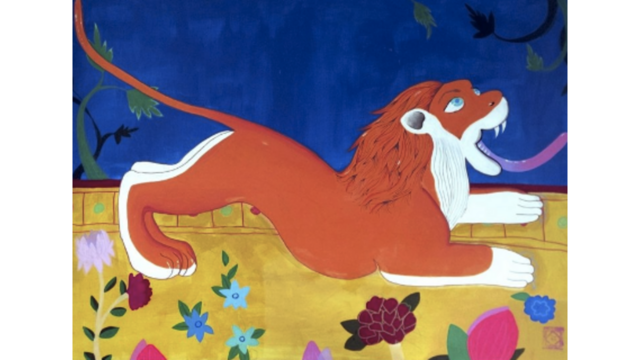 Handpicked by Caza Sikes, the 2022 Emerging Artists show highlights up-and-coming artists making big waves in Cincinnati.
Join us for the Opening!
Friday, June 17, 2022
5PM - 9PM
About the artists:
DeSanto (Nick Alvarez)

Cincinnati-based graphic designer, deSanto, has been honing his skills in design since 2008. deSanto blended his graphic design skills with his twenty-five years of painting experience, bringing about a perfect marriage of his two passions. His work is inspired by Victor Vasarely and Latin American artists Jesús Rafael Soto and Antonio Asis.

https://www.instagram.com/desantoart/

Jazmine Applegate (Jazz Chao)

Jazz Chao is a mixed media painter colliding the multiplicities if cultural identity. Using flat graphics pitted against realistic subjects, her work thrives in an abstracted and texture-heavy environment. Jazz Chao's artwork is a body of pop-surrealism, with themes of memory and absurdity.

https://jazzchao.com/artwork



Samantha Amoroso
Samantha Amoroso, born in Long Island, New York, graduated from Lyme Academy College of Fine Arts in 2015, receiving her BFA in Painting. Following graduation, she attended a one-month residency at Vermont Studio Center, began working as an open figure drawing instructor at the LACFA, and assisted with the installation and curation of shows at the Lyme Art Association. In 2016, Amoroso accepted a full scholarship to pursue her MFA at the University of Cincinnati. As of December 2018, Amoroso received her Masters in Fine Arts, exhibiting her thesis show Luckily, She Was Dreaming, at the Contemporary Art Center (CAC) in downtown Cincinnati. Upon graduating, she began teaching undergraduate classes the following spring semester at UC in the School of Art and School of Design. In addition to teaching, she has continued to show her work in both group and solo exhibitions in the Cincinnati area, including Clay Press Street Gallery, Studio X, and Sharonville Cultural Art Center.


J
eff Brinkman
Self taught photographer. I love all respects of the medium. My depth of field regarding work is very random, from snapshots to narrative, disposable cameras to digital, views most ignore.



Jason Durham (American, born 1972)


Jason Michael Durham is a Cincinnati native and outsider artist specializing in mixed media compositions. He graduated with a Bachelor of Arts in Electronic Media from Northern Kentucky University. Jason likes to take chances, experiment, and improvise to create works of art that reflect his personality. He is heavily influenced by Frank Stella, Jerry Garcia, and Jeff Spicoli.


https://www.instagram.com/el__trigo/?hl=en

Sarah Miller (Cincinnati, Ohio, 20th/21st century)

Fiber artist Sarah Miller of MoonForest Studio has been turning wispy piles of wool fiber into sophisticated and colorful objects of art through the process of needle felting for over ten years. Similar to her background in clay, felting is a very tactile process that allows a piece to develop over time, with the added benefit of immediate color, a huge inspiration! Sarah has been traveling and selling her work at outdoor art shows for many years, and you may have seen her work in the pages of Somerset Studio Holiday or Better Homes and Gardens Holliday Craft.


Shannon Fitch (Ohio; 20th-21st century)
Shannon Fitch was born in Cincinnati, Ohio and attended the University of Cincinnati's DAAP program, earning an undergrad in fine art and a masters in art education. Fitch's work revolves around naturalistic elements with attention to detail, using pen and ink as a primary mode of artistic expression. Her work has been exhibited at the Contemporary Art Center, the Reed Gallery, and other additional shows throughout the city.

Chris Muse (American, 20th-21st Century)

C. Edward Muse
Jason Durham
DeSantos
Javiera Geer
and more...