Tom Towhey and Jan Wiesner | Wild Tales
Past Exhibition
Starts February 7, 2020 5:00 PM EST
Ends March 23, 2020 5:00 PM EDT
Caza Sikes
Overview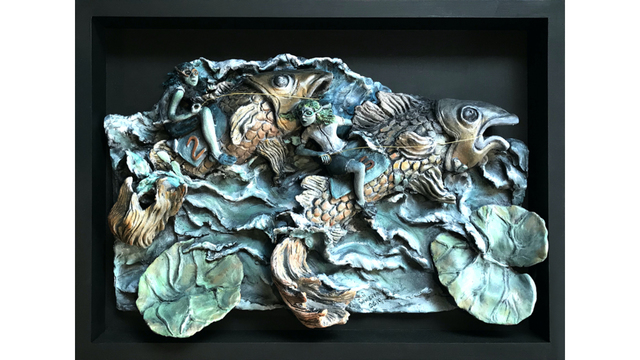 Opening Reception Friday, February 7th, 2020: 5 pm - 9 pm
Featuring new works by two prominent Cincinnati artists, Tom Towhey and Jan Wiesner. The exhibition will open on February 7th from 5-9 PM and will run through March 23rd.

Jan Wiesner creates figurative ceramic sculptures that have a story to tell. The stories are explorations of the fairytales that are part of our culture and surround and affect women and their lives. Like all fairytales her pieces deal with the distortions between what is and what society's expectations are. They deal with those emotional responses that are often hidden for fear of condemnation. The sculptures also tend to speak of natural and the unnatural aspects of our lives.

Thomas Hieronymus Towhey was born in 1958 in Cincinnati, Ohio. While he studied briefly at the Art Academy of Cincinnati and the University of Cincinnati, he is primarily a self-taught artist. He is a founding member of the Maintraum Art Group. Towhey was instrumental in developing after school art programs for the Cincinnati YMCA which included outreach programs for Children's Hospital Medical Center. He also served as a voluntary art teacher for Cincinnati's St. Rita's School for the Deaf. He moved his studio to Sante Fe, New Mexico, for a period in 2006. Currently, Towhey lives and paints in Cincinnati. His work has been represented by numerous galleries and is part of many public and private collections.