Dream Weavers
Past Exhibition
Starts October 6, 2023 5:00 PM EDT
Ends November 10, 2023 11:00 AM EST
Caza Sikes
Overview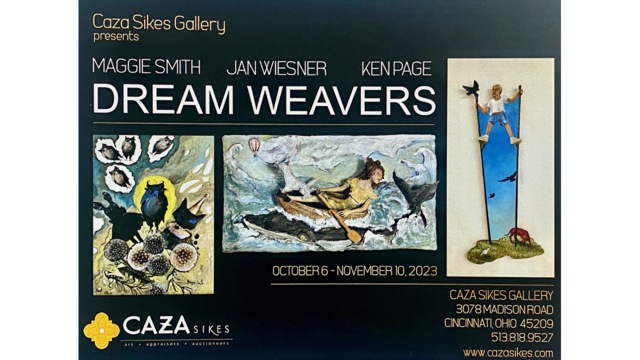 SPECIAL LECTURE:
Saturday, October 28, 1-2PM
"Dream Interpretation and Art"
featuring Norman Finkelstein poet, critic, and graduate of Cincinnati Psychoanalytic Institute
Exhibition features three Cincinnati artists; Jan Wiesner, Maggie Smith and Ken Page.
Ken Page: I love the adventure of a story with multiple interpretations. Inspiration usually comes from a shape, object or people in unique situations. My art is created with a wink, a provoking thought and with a strong aesthetic design.
Jan Wiesner: I create figurative ceramic sculptures that have a story to tell. The stories are explorations of the fairytales that are part of our culture and surround and affect women and their lives. Like all fairytales my pieces deal with the distortions between what is and what society's expectations are. They deal with those emotional responses that are often hidden for fear of condemnation. The sculptures also tend to speak of natural and the unnatural aspects of our lives.
Maggie Smith: Art-making has always been imperative in Maggie Smith's life, as it gave her confidence in school at a young age. Raised in the New York City area, she studied under Will Barnett at the Art Students League in New York, before receiving her B.F.A. in Painting at the University of Denver. Smith went on to study art in Florence, Italy for several months, then returned to the United States and worked as a children's book illustrator in Boston.
Smith paints a variety of subjects, including figural work, interior scenes, and European scenes, however many of her pieces often feature animals with a regal theme. Rendered with gestural and impressionistic brushstrokes, her paintings typically exhibit overall lyrical, whimsical, and even Surrealist themes.