Henry Lawrence Faulkner: Artist, Poet, Personality- The Lifetime Collection of Lawrence Lewis
Past Exhibition
Starts December 7, 2019 5:00 PM EST
Ends January 5, 2020 5:00 PM EST
Caza Sikes
Overview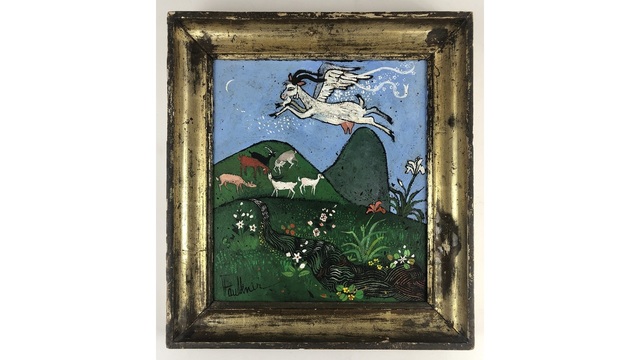 Opening Reception Saturday, December 7, 2019 5 pm - 8 pm.
It is with great privilege that Caza Sikes presents this major exhibit and sale of the work of Henry Lawrence Faulkner (Kentucky, 1924-1981), from the Private Collection of Lawrence Lewis. Comprised of 21 paintings and one group of ephemera related to Faulkner's friend, playwright Tennessee Williams (1911-1983), this Collection is among the largest to have ever been offered for special exhibition and sale since the artist's death in 1981.
Today Henry Faulkner is still remembered by his collectors, acquaintances, and enthusiasts for countless anecdotes or chance encounters. His legacy, left in the form of his poetry and visual work, is scattered across the country and continental Europe - from Taormina, Italy, the Bluegrass of Kentucky, Florida where he'd shown work and spent time in Key West, in New York where he lived, studied and matured, and elsewhere where a collector may have moved after picking up a painting at a Closson's Gallery show (Cincinnati, OH) or another purveyor who fell in love with the energetic and quirky artist/intellectual and gave him a chance.
In recent years, Henry Faulkner's work has begun to attract significant attention on the market, as well as in exhibitions and scholarly endeavors. A major effort to catalog known works and supplement the current biographical information about Faulkner came to pass in the form of "The Gift of Color: Henry Lawrence Faulkner", the 2015 publication by John Stephen Hockensmith. Currently, production is underway for a documentary film around Faulkner the artist and poet. Undiscovered or unknown works occasionally surface across a wide swath of geographical territory, indicating the many eyes that were drawn to his work during his lifetime. Often these "acquisition stories" include a personal interaction - perhaps a gift, a chance gallery show, a spur of the moment commission.
We hope you can join us at Caza Sikes for this unique exhibition.