Ursula Roma: Fiddles and Flowers
Past Exhibition
Starts April 3, 2020 11:00 AM EDT
Ends May 22, 2020 11:00 AM EDT
Caza Sikes
Overview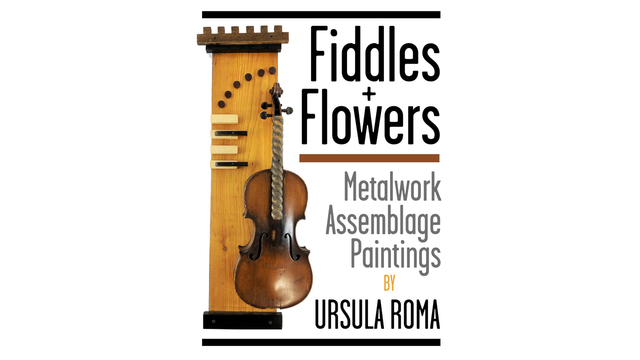 Our FIRST-EVER virtual exhibition featuring artist Ursula Roma's fine art, metal work and found object sculpture. Items can be delivered AT NO CHARGE to your doorstep using our white glove service and virus-free! They can also be shipped to all 50 states at an additional cost.
Artist Statement:
I am a multi-media fine artist, designer and sculptor who has lived in the Northside neighborhood of Cincinnati for over 30 years creating original paintings, found-object assemblage, and metal designs for home and garden.
My flower art consists of taking my complete obsession with color, and trying to recreate the beauty of a garden in full bloom! I create geometric, abstracted, design combinations using contemporary flower shapes. These flower studies allow me to explore color combinations along with abstracted natural shapes in a field of textured color. This layered, dense, expressive wild flower painting work is my attempt to create gardens that won't die, and will remain vibrant and alive for years to come.
My metalwork started 10 years ago as I began designing functional and decorative metal art for interior and exterior applications. I incorporate my personal illustration style to create panoramic metal panels, window guards, gates, fireplace and privacy screens, as well as, wall art and ornamental garden sculptures.
I have been making found-object wall constructions for over 25 years. My appreciation for the elegant beauty of common objects inspires me to create art from discarded and broken items. Composed of diverse pieces, my constructions combine an array of unrelated items into a unified work. The shape of the object helps determine its fate and guides me in creating its ultimate destiny, thereby giving it a second life.
This show includes four Guardians; female figures that are here to share their vision for all of our futures. They have come to speak for the earth and the voiceless creatures of the planet. The Guardians are Generosity, Empathy, Charity, Compassion*, Vision*, and Love. We must stop sacrificing our air, our environment, and our health. It's time we respect the gifts that surround us and make our life on earth possible. Our Guardians warn us that we cannot survive if our world is uninhabitable.
I love to do commissions in any medium, and enjoy working with clients to create collaborative works of art. If you have a project idea I'd be happy to discuss it with you. More of my artwork can be found on Instagram and Facebook and at my various websites and blogs listed below. Thank you for viewing my show.